We're getting closer and closer to Christmas! Instead of having a family dinner on Christmas Eve this year, we're just doing desserts with my dad's side of the family and then driving down to Coos Bay on Christmas Day and spend a few days there. I'm so excited that we're having people over for dessert! I love to bake and this will give me an excuse to do it in excess. We'll also take packages of baked goods down to Coos Bay. My mom asked me to compile a list of what we're making including a list of ingredients. Here's a rundown of everything we'll be whipping up next week! What are YOU going to be baking this year?
1. Pumpkin Cupcakes with Cinnamon Cream Cheese Frosting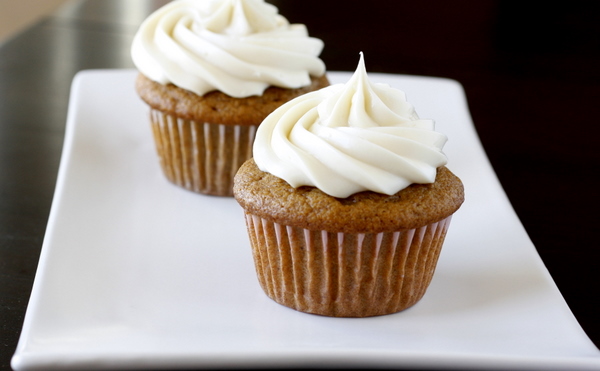 Ingredients:
1 stick unsalted butter
1 cup firmly packed dark-brown sugar
1/3 cup granulated sugar
2 cups cake flour
2 teaspoons baking powder
1 teaspoon baking soda
1 teaspoon ground cinnamon
1 teaspoon ground ginger
1/2 teaspoon ground nutmeg
1/8 teaspoon ground cloves
1/2 teaspoon salt
1/4 teaspoon freshly ground black pepper
2 large eggs
1/2 cup buttermilk mixed with 1 teaspoon vanilla
1 1/4 cups canned pumpkin
8 ounces cream cheese, at room temperature
4 tablespoons butter, at room temperature
1 teaspoon vanilla extract
Cupcakes:
Preheat the oven to 350° (175°C). Line a cupcake pan with 18 liners.
In a stand mixer, beat the butter and sugars on medium speed until fluffy, about 5 minutes. Meanwhile, sift the flour, baking powder, baking soda, cinnamon, ginger, nutmeg, cloves, salt, and pepper into a medium bowl. Add the eggs 1 at a time to the mixer, scraping down the sides after each addition. Alternate adding the flour and milk mixtures, beginning and ending with the flour. Beat in the pumpkin until smooth. Scoop the batter among the cupcake liners — you're looking to get them 3/4 full. Rap the filled pans once on the counter to release any air bubbles. Bake the cakes until a toothpick inserted into the center comes out clean, about 20 to 25 minutes. Cool the cupcakes on racks completely.
In a medium bowl, mix together cream cheese, butter, and vanilla. Gradually add powdered sugar and cinnamon, mixing well until it's all incorporated. Use immediately or refridgerate. The frosting will harden in the fridge, so plan on bring it back to room temperature if you must refrigerate it before frosting the cupcakes. Either pipe out onto the cupcakes using a piping bag or a Ziploc bag (It works just as well!).
2. Oreo Truffles
Shelby's mom made these for her and her roommate, but I think I was the only one who got a hold of them. Needless to say, they didn't last long. This recipe is sooo so simple and I can't wait to make a batch of my own!
Ingredients:
1 package Oreo cookies
8 ounces cream cheese, softened at room temperature
2 cups semisweet chocolate chips
2 tablespoons vegetable shortening
Directions:
Mix cream cheese and 3 cups cookie crumbs until well blended. Shape

into 48 (1-inch) balls. Dip in melted chocolate; place on waxed paper-covered baking sheet. Sprinkle with remaining cookie crumbs. Refrigerate 1 hour or until firm. Store in tightly covered container in refrigerator.
3. Pumpkin Rolls
We use this
Libby's
recipe every year to make these delicious pumpkin rolls. They are somewhat easy to make but can be sort of tricky. It's important to use powdered sugar on all surfaces when handling the sheet of pumpkin cake.
Ingredients:
1 (8 ounce) package cream cheese, softened
1 cup powdered sugar, sifted
6 tablespoons butter or margarine, softened
1 teaspoon vanilla extract
1/4 cup powdered sugar
Directions for Roll:
Mix filling ingredients and spread on cooled cake. Roll up cake and sprinkle with powdered sugar. Wrap in plastic wrap and refrigerate. Cut into one-inch slices with a sharp serrated knife or even a piece of fishing line by bringing it underneath the roll and pulling over the top.
4. Chocolate and White Chocolate Cookies with White Chocolate Drizzle
Picture the cookies below with white chocolate drizzled on top. I make these almost every time in batches of at least four dozen. This is such a ridiculously easy recipe; I'm not sure if I'm ready to give up my method yet so publicly. Send me a message or leave a comment if you want my secret!